Hoops, Fairfield Did it Again!
Hoops, Fairfield Did it Again!
by Lee Rae-en Amelia (Sec 2B) and Sarah Chan Xuan Ern (Sec 3B) 
Fairfield's basketball team displayed grit and tenacity to advance to the finals of the South Zone 'C' Division Basketball Championships against National Junior College (NJC). Throughout this competition season, our 'C' division boys showed great teamwork on the court.
"Beep!" The whistle signalled the start of the match as both teams eagerly jumped into the air to grab the ball. When the NJC players had the ball, our boys quickly got into their defence positions, while staying alert and focused on regaining possession. Our Fairfield basketballers' hunger to win enabled them to get the ball back and score their first basket! The crowd erupted in cheers as the basketball seniors proudly waved the Fairfield flag high in the air.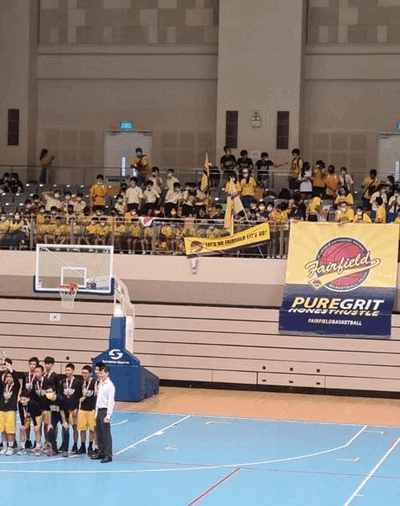 As the game continued, a few of our basketball boys sustained some injuries while battling for the ball during the match. However, they displayed great teamwork to fend off their opponents' relentless attacks. Their display of unity and resilience captured the hearts and minds of the audience, which included Fairfield Methodist School (Primary)'s basketball team members and their teachers. They had gathered to support and cheer the boys on as One Fairfield.
With just a minute left on the clock, Coach Marc substituted in a fresh group of players. During the crucial final moments of the match, silence filled the sports hall as everyone who was on the edge of their seats watched the basketball circle the rim of the hoop before finally falling through with a 'swish' sound. The sea of spectators erupted into jubilant cheers and clapped enthusiastically as the boys emerged victorious as the South Zone Basketball Champions! Their excellence is testament to the nurturing environment in Fairfield where every student is given opportunities to discover and cultivate their interest beyond the classroom. 
Photos by @yangraphs