Partners-in-Education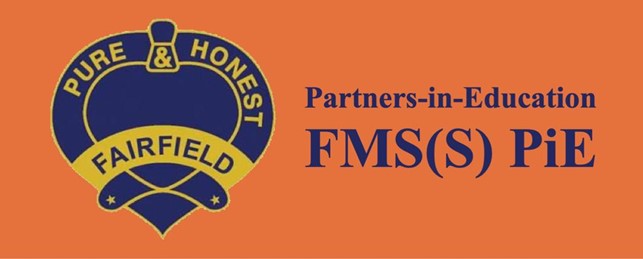 Welcome to Fairfield Family
Hello! We are the FMS(S) Partners-in-Education (PiE). We are a community of parents with diverse backgrounds, experiences and skills, coming together for one common goal - to support Fairfield's mission:
"To provide a holistic education in a Christian environment to nurture leaders of good character who are equipped to serve God, nation, community and school"
The next 4 - 5 years will be an exciting, life transforming season of your child's growing years. We encourage you to join us on this journey of discovery with your child and make a difference in his/her life.
As Partners-in-Education, we aim to:
1. Be Present Welcome to Fairfield Family
To lend support to school events.
2. Be Equipped
To empower ourselves to be more effective parents.
3. Be Connected
To be a support network for parents and students.
4. Be a Blessing
To be parent volunteers and making a difference.
We collaborate with the School on various projects and platforms throughout the year, so as to promote strong home-school partnership.
Ongoing PiE involvement in FMS(S):
*Each year's line-up of events is subject to change.
• Dads@Fairfield
A platform especially for Dads! Networking, sharing and parenting talks for Dads only. Learn how to connect with your child and make an impact in his / her life.
• Parents Connect through Talks and Quarterly Walks
Parenting talks on topics close to parents' hearts. Get equipped to journey with your teens. Network, bond and share over informal dialogues and chit chat sessions 

Quarterly walks are organised for parents to bond not only while walking and enjoying scenic views, but also while having a good time over breakfast.
• Christian Prayer Group
Christian parents gather fortnightly on Fridays to pray for the School, the students and the Fairfield community at large.
• Christian Fathers' Prayer Group
Christian fathers gather together to pray every last Saturday of the month.
• Sports Day
Takes place at the end of Term 1. Besides volunteer opportunities, it also Includes a time where parents and child / children can participate together in a family-relay activity.
• Carnival
In April, FMS(S) will come together to celebrate 135 years of God's blessings and faithfulness.
• BLESS/Study Programme
A programme to encourage Upper Secondary students who are preparing for their O- and N-level examinations. Snacks and little gifts are provided, packed and delivered by parents to motivate and spur these students on. This program runs from August to September.
Be an Involved Parent! Join Us!
All FMS(S) parents are welcome to join FMS(S) PiE. Sign up by completing the online form at link below or scan the QR code provided:

All FMS(S) parents are welcome to join FMS(S) PiE.
Sign-up via our online form. Scan the QR code or at:

You will, nearer the date, receive information on the PiE events that you have indicated interest in.For more information or enquiries, you can reach us via email at fmss.pie@gmail.com.
Looking forward to having you as part of our big Fairfield family!